Do you have a patient with undiagnosed bipolar I depression in your practice?
Does this describe a patient you will see today?
The Rapid Mood Screener (RMS) is a mood screener that uses patient-reported answers to help uncover bipolar I disorder.30 ‡
No matter the bipolar I episode, VRAYLAR is approved to treat it1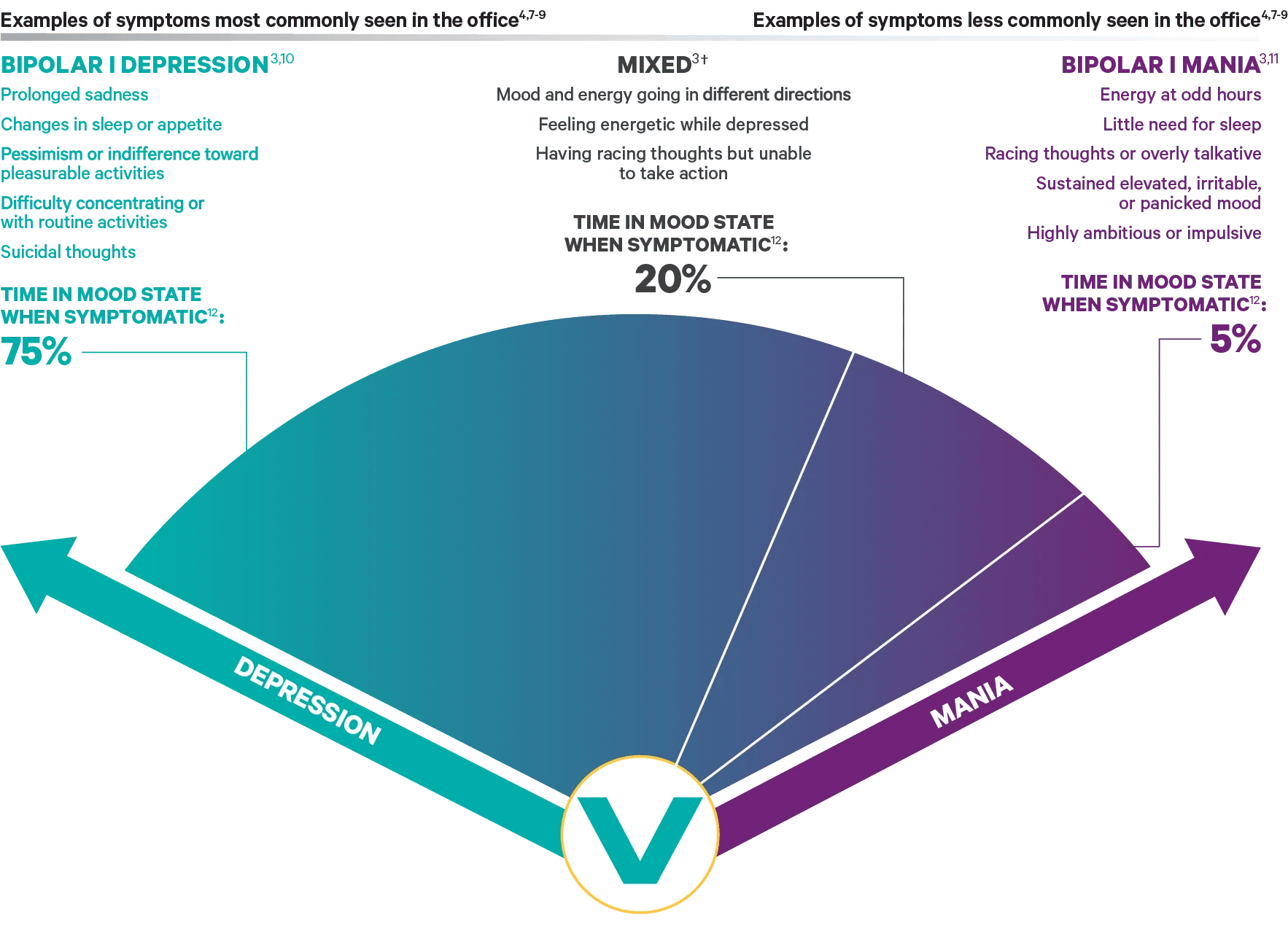 Examples of symptoms most commonly seen in the office4,7-9
BIPOLAR I DEPRESSION3,10
Prolonged sadness
Changes in sleep or appetite
Pessimism or indifference toward pleasurable activities
Difficulty concentrating or with routine activities
Suicidal thoughts
TIME IN MOOD STATE WHEN SYMPTOMATIC12: 75%
MIXED3†
Mood and energy going in different directions
Feeling energetic while depressed
Having racing thoughts but unable to take action
TIME IN MOOD STATE WHEN SYMPTOMATIC12: 20%
BIPOLAR I MANIC3,11
Energy at odd hours
Little need for sleep
Racing thoughts or overly talkative
Sustained elevated, irritable, or panicked mood
Highly ambitious or impulsive
TIME IN MOOD STATE WHEN SYMPTOMATIC12: 5%
The approval of VRAYLAR for the treatment of bipolar I depression and acute manic or mixed episodes of bipolar I was based on the change from baseline in total score, not individual symptom measurement, on the MADRS and the YMRS, respectively.1
†Mixed bipolar I is clinically defined in DSM as Mixed features (DSM-5): Manic episode + 3 or more depressive symptoms lasting ≥1 week or major depressive episode + 3 or more manic symptoms lasting ≥2 weeks; Mixed episode (DSM-IV-TR): Manic episode lasting ≥1 week + major depressive episode.3,13
DSM=Diagnostic and Statistical Manual of Mental Disorders; MADRS=Montgomery-Asberg Depression Rating Scale; TR=text revision; YMRS=Young Mania Rating Scale.